Workplace training and consultancy

One in four pregnancies is estimated to end in miscarriage. The majority of those affected will be in employment.
Our research, backed up by a major report from the CIPD (Chartered Institute of Professional Development), shows a lack of support from employers and managers can mean reduced productivity, lower standards of work, increased absence and even resignation.
Thoughtful support and management, on the other hand, can make a real difference to how women and partners cope and can enhance an employee's motivation and commitment.
Our training and consultancy programme equips managers with the skills they need to best support a staff member at this often very difficult and distressing time.
We've worked with Co-op, Channel 4, Direct Line, Southeastern Railway, Atkins, Ipsos Mori and many others on their approach to pregnancy loss and the workplace.
Here's how we can help your organisation, too.
Options
Bespoke 2.5-hour workshop
This interactive session will give employers and managers an in-depth understanding of pregnancy loss and how best to provide support.
It covers: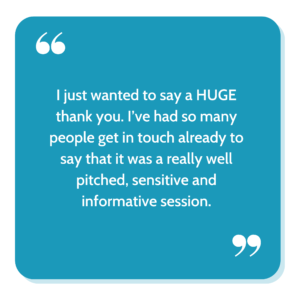 Pregnancy loss facts and figures
Feelings and practical considerations
Issues and impact in the workplace
Creating a supportive environment
Support during and immediately after a loss
Supporting the return to work
Ongoing support
Barriers to support and solutions
10+ delegates. Online or in person options available.
Online 'open' workshops
These 2.5 hour workshops cover the same content as above and are open to individual managers or businesses who may not require a bespoke session.
Our next workshop takes place on Thursday 25th January 2024 at 10am. Click here to book your place.
Registration is through Eventbrite. A 20% discount is available to not-for-profit organisations, including the public sector. Please email vicki@miscarriageassociation.org.uk for the discount code before booking.
Bespoke learning session
A 55 min session covering the basics of pregnancy loss, feelings and tips for managers and colleagues on how to support someone going through it. Suitable for all members of staff to attend.
Pregnancy Loss Policy/guidance consultation
We can support your team to draft and implement a new policy or review existing materials, with special focus on the sensitivities and language around pregnancy loss.
To discuss your training needs, please email vicki@miscarriageassociation.org.uk or call 01924 679250. A 20% discount is available on all training for not-for-profit organisations, including the public sector.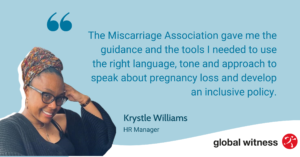 To read more about the issues and impact of pregnancy loss and the workplace, click here.
To find out about our Pregnancy Loss Pledge campaign, click here.