Pregnancy loss and the workplace – Seenit

A digital company with 30 employees, based in London.
VP of Engineering, Ian Merrington explains the support offered by his company – and how he understands all too well the impact of pregnancy loss at home and work.
What prompted your organisation to look at a pregnancy loss policy or guidance?
My partner and I suffered a fourth miscarriage during Sep 2020. This was the first one whilst working for Seenit. In the past I had kept pretty quiet about the previous miscarriages, only speaking to line managers and a few close colleagues.
My line manager during our previous miscarriage was the first person to speak with me openly about their own experiences, although this conversation took place out in the fire escape, reinforcing the idea that miscarriage is something to be talked about in hushed tones away from other people.
During our most recent miscarriage, and as a direct result of the culture of openness and support that exists at Seenit, I decided to speak out, partly to get the support that I knew I would get from the company, and partly to let any of the more junior team members know, especially the potential partners who may have to help their own partners through a miscarriage, that I was happy to talk to them, and pass on my experience.
Following this, in March 2021, when New Zealand introduced statutory paid time off for baby loss, our CEO immediately made changes to our own policy to support this.
Were there any hurdles to overcome?
I'm lucky, as part of the Senior Leadership team I can directly influence things like this, but in all honesty, I hadn't actually considered changing company policy to support it. Seenit being such a supportive place, I think the assumption is always there that as a company it will look after any staff going through a hard time. It was Emily the CEO that spotted this is something so important we should formalise it. Rather than creating an additional standalone policy, we incorporated pregnancy loss into our bereavement policy.
Ian said: "Miscarriage is such a deeply personal thing, and the transformation from excitement to despair is so dramatic, it forces you drop everything and put every effort into supporting your partner. You don't have the time or mental capacity to have to ask for time off and worry about your job.
"That's why a policy is important, and awareness of that policy doubly so. It's also important as a company to acknowledge the long tail of emotion that can come from a miscarriage, the hurt that comes from seeing a pregnancy announcement in the office or the visit from a colleague's new-born baby.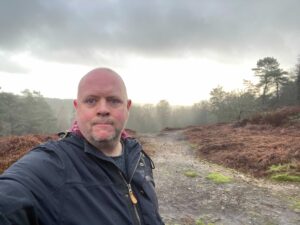 "You need to know who you might need to check in on, who is suddenly quiet or withdrawn, it's amazing how many triggers exist, with a miscarriage often being used as a plot device in many shows and movies.
"The only way you can help as a company, is to talk about these things, and acknowledge them at a personal/team/company level, depending on what is appropriate.
"Allow people to ask for the help they are comfortable with, and the level of support they need. Not everyone handles miscarriage in the same way, and that's why it's important to be as flexible as you can."