Pregnancy loss and the workplace – North Star

A housing association based in the North East with 85 employees
What prompted your organisation to look at a pregnancy loss policy or guidance?
Executive Director of People and Culture Carole Richardson explains: "New Zealand's parliament had voted unanimously to give mothers and their partners three days of bereavement leave after a miscarriage or stillbirth. Whilst I thought this was admirable, three days seemed inadequate. It also woke me up to the fact that regardless of how well meaning our approach was, the only tool we had in our toolbox ref leave was sick leave or compassionate leave. I felt it was important that we were more specific and clear in our approach. We provide a whole range of support to staff and this felt like a real gap."
How did you go about it?
I started to have conversations within the business. The feedback I got was very positive. I worked out our approach with the CEO. She helped me to develop my thinking even further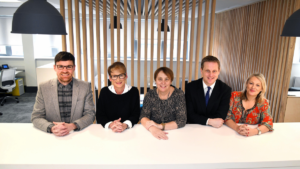 And what was the end result?
I overhauled all of our approaches including improving on statutory bereavement leave following the loss of a child. Now we offer:
Anyone who loses a child (of whatever age) receives 10 days paid leave
Anyone who experiences pregnancy loss receives 10 days paid leave
This applies to both parents.
We also sourced support information and publicised this across the business, shared with managers (all of whom are well trained) and ensured that we continue to publicise our free, confidential, independent counselling service
During this process I discovered the work of the Miscarriage Association.
Carole added: "Losing a baby is incredibly hard. As an employer we are committed to ensuring all of our staff receive our support when they need it most. This is just one small way, that we are able to help. We encourage all employers to adopt such practices."
Join North Star in taking the M.A.'s Pregnancy Loss Pledge.