Supporting someone through pregnancy loss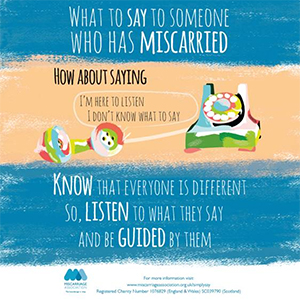 When someone you know, such as a friend, family member or colleague, has a miscarriage, or an ectopic or molar pregnancy, it can be hard to know what to say. You might worry about saying the wrong thing, or you might feel that it would be better to say nothing at all.
We've talked to a lot of women and their partners about comments they found helpful after pregnancy loss – and the things that they'd prefer people not to say. Everyone's different, of course, and what one person has appreciated, another has found upsetting. That's why it's always important to listen to the individuals involved and be guided by them.
"You don't need to have experienced miscarriage or say some deeply insightful thing to be helpful, you just need to be honest and ask them to tell you what you can do to help." – Lizzie
Below, you can find some suggestions about how to support someone who has experienced pregnancy loss. You might find our leaflet, Someone You Know, helpful too.
Talking about miscarriage and pregnancy loss
Simply say… 'I'm sorry'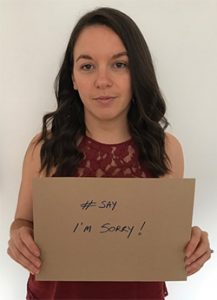 Even at the earliest stages of pregnancy, women and their partners often feel a real connection to their baby, and will grieve for this baby and for the future they had imagined. It can be hard to find the right words to comfort someone who is experiencing this type of grief, but many people say that just having their loss acknowledged is helpful.
You might want to say:
"I'm very sorry that you have lost your baby."
"This must be really difficult for you."
Or even:
"I don't know what to say."
"When I went back to work I still remember people who said 'I'm sorry, it must be awful are you okay?' That is all people need to say. It is a bereavement. People mistake it for something different, but you are dealing with the loss of someone who meant the world to you and it needs to be treated with the same level of empathy." – Paul
Things not to say
Occasionally comments that you make with the best of intentions, may upset someone who has experienced a miscarriage. Often these are comments that try to explain or rationalise the miscarriage, or put a positive spin on it.
Some examples might be:
"Don't worry, you're young. You can always have another baby."
"It wasn't meant to be."
"It was probably for the best."
"At least you have other children."
"I don't want to hear any comment that starts with the words 'at least'. 'At least you are young', 'at least you can conceive', or, for me the worst one, 'at least it wasn't a real baby yet.' All I wanted was for someone to give me a hug and acknowledge what had happened." – Amy
If you can't find the words
You might be able to support someone just by sitting and listening to them talk, or giving them a hug.
"I just wanted someone to talk to and listen to me." – Michelle
You might want to offer to do something practical to help, such as pick up shopping or take around a meal.
Keeping in touch
You might think it's best to give people space and privacy after a pregnancy loss, but this may leave them feeling isolated. If you're not sure, perhaps you could send a card or a brief text or email just to let them know you're thinking of them.
Difficult situations
It can be difficult to know how to support someone who has had repeated losses. You may feel there's nothing else you can say, or perhaps you think they may be less upset this time round. In fact, they'll probably appreciate your support even more.
"With each miscarriage, people were finding it more difficult to know what to say. They found it easier not to say anything…" – Caroline
If you are pregnant or have a young child yourself, you may wonder whether you should visit. After a pregnancy loss, some people will find the sight of pregnant women and babies upsetting, but that's not the case for everyone. Perhaps you could send a card or a text and check how they feel before visiting.
Talking to the Miscarriage Association
If you'd like further advice on supporting someone you know through pregnancy loss, you can call, email or write to the Miscarriage Association helpline.
Phone: 01924 200799 (Monday to Friday, 9am-4pm)
Email: info@miscarriageassociation.org.uk
Address: 17 Wentworth Terrace, Wakefield WF1 3QW.
Personal experiences
Click on the links below to read the full stories from the women and men whose quotes appear on this page.
You can also read about others' experiences in the Your Stories section of our website.