Support groups
We have a UK-wide network of support volunteers, who have been through the experience of pregnancy loss themselves and can offer real understanding and a listening ear.
Most offer support by telephone and some of them provide support for people with particular experiences or circumstances – e.g. ectopic pregnancy, fertility problems, or recurrent miscarriage.  Contact us for details.
However, we also have a number of monthly support groups.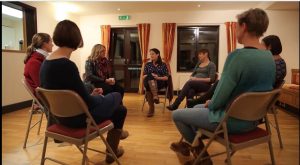 These offer an opportunity to meet with others who have experienced pregnancy loss, to share thoughts, feelings and experiences in a safe and supportive atmosphere.
The thought of going to a support group can be daunting – but for many, it is actually a very positive experience.  Sara notes:
I was quite nervous of going and I was worried I might break down in front of a group of strangers. As it happened I found the session extremely helpful and I am really looking forward to going again.

For anyone who's anxious about going to a group, give it a try. You will be in a supportive environment, often a small group and you don't have to share unless you're ready to. Sometimes you realise more about your own feelings by listening to others.
We have support groups in:
The Black Country:
Blackpool, Wyre & Fylde:

meets at Blackpool Sports Centre, Richmond Suite, Stanley Park, Blackpool from 6.30pm – 8pm on the 4th Wednesday of each month. You can text 07544 385010 or contact us for details.

Bristol:

meets at the Alma Church, Clifton on the 1st Tuesday of the month, 7-9pm. Further details on Facebook at Bristol Miscarriage Support.

Carmarthen, South Wales:
Chester/North Wales:

meets at Caldy Valley Church Centre, Great Boughton on the 1st Tuesday of the month

Edinburgh:

meets at the Craiglochart Sports Centre's Tennis Tournament Building on the 2nd Wednesday of the month

Glasgow:

meets at the New Victoria Hospital on the 1st Thursday of the month.

Huntingdon:

runs as and when needed, so just let them know. Contact us for details.

London: (two groups)

the London M.A. group meets once a month in the Prayer Room at Guy's Hospital. Next meetings will be Thursdays 29 June, 27 July, 24 August, 28 September, 26 October, 30 November and 21 December.  Contact MALondon2014@outlook.com for more information and directions.
the West London group meets at Queen Charlotte's hospital.  The next meetings will be on Saturdays 6 May, 10 June, 8 July, 9 September, 7 October, 11 November, from 10 a.m. to 12 p.m..  They meet in the Duke of Sussex room on the 2nd floor and will have signs near the entrance to direct you. For more information, contact Halima, in the Early Pregnancy Unit, on 0203 313 5131 or email miscarriagegroupqcch@gmail.com.

 Manchester:

meets on the first Monday of every month at Withington Methodist Church, Manchester  M20 4AN, between 7.15 and 8.45 p.m..  You may need to check if the first Monday is a Bank Holiday: call 07929 579536.

Newcastle-upon-Tyne:

meets on the second Thursday of every month from 6-8 p.m. at the Molineux centre, Molineux Street, Byker, Newcastle Upon Tyne, NE6 1SG. Contact us for details.

 Norwich:
Nottingham:

miscarriage support group meets on the 3rd Thursday of the month from 7-9 p.m. at Sherwood Methodist Church;
pregnancy after loss group meets at the same venue on the 2nd Saturday of the month from 10.30 – 12.30.

Plymouth:

meets on the first Tuesday of every month from 7 to 9 p.m. at the Hub in Plympton, Plymouth.

 Winchester:

meets on the first Thursday of the month from 7.30-9pm at St Mary's Church rooms, London Road, King's Worthy, SO23 7QL.  An additional group can be arranged as required for those who are pregnant after losing pregnancies. Please contact winchestermiscarriagesg@gmail.com for more details and directions for parking, as SATNAVs are not accurate.
The Winchester support group features in a short film about recurrent miscarriage.
• Contact us to get further details of your nearest support volunteer or group.