The Pregnancy Loss Pledge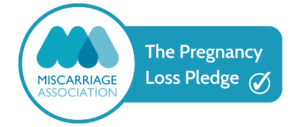 Our campaign urges employers across the UK to commit to supporting their staff through the distress of miscarriage.
We are encouraging businesses and organisations to meet our pregnancy loss standard to ensure that employees going through what can be a very difficult or traumatic time get the support and time off they need.
The standard asks employers to understand and implement the rules around pregnancy-related leave, create a supportive work environment, to have a policy or guidance in place, to ensure line managers have access to resources to help them manage a difficult situation and to support people, including partners, back to work by showing flexibility wherever possible.
Will your workplace take the M.A.'s Pregnancy Loss Pledge and agree to:
Encourage a supportive work environment where people feel able to discuss and disclose pregnancy and/or loss without fear of being disadvantaged or discriminated against
Understand and implement the rules around pregnancy-related leave, ensuring staff feel able to take the time off they need
Show empathy and understanding towards people and their partners experiencing pregnancy loss
Implement a pregnancy loss policy or guidance, or ensure it is included in sickness, bereavement or other workplace policies – being mindful of the needs of partners, too
Encourage line managers to access in-house or external guidance (such as that available on the MA website) on how to support someone experiencing pregnancy loss
Support people back to work by being responsive to their needs and showing flexibility wherever possible
Take the pledge for your company or organisation by completing the form at the bottom of this page. On completion, if you consent to us contacting you, we will be in touch and send you assets to help you share your pledge on your website and/or social media.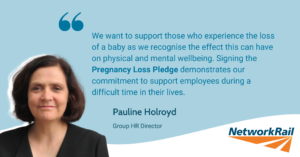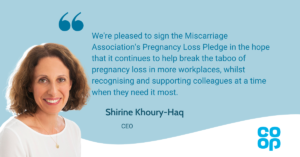 Thank you to all those taking the Pregnancy Loss Pledge, including:
Charity/Third Sector
Save the Children UK, RSPCA, The Prince's Trust, North Star housing association, UK Coaching, Loreburn housing association, Martlets Hospice, Kit Tarka Foundation, NW Counselling Hub CIC, North London Music Therapy CIC, Simon Community Scotland, Julian Support, Adra, Causeway, Quo Vadis Trust, Notting Hill Genesis, Sherburn in Elmet Community Trust, P3 Charity, Norfolk Community Law Service, Touchstone, Independent Age, St Helena Hospice, Zephyr's, Alnwick Garden Trust, Support2gether, Dementia UK, Clydesdale Housing Association, Aching Arms.
Communications/Media/Marketing
TalkTalk, JPI Media, Aira, Radioactive PR, Jack and Grace, Polka Dot Data, Mediabrands, Wagada Digital, ManDad Media, TattyB Media, Wild PR, Hallam, Cyber Duck, Launch Online, Hatch Communications, Ecrubox Digital, Woodrow Communications, PrettyGreen, Receptional, Prominent PR, The Know, The Nursery Research and Planning, 3 Monkeys Zeno, Public Relations and Communications Association (PRCA), Milk and Honey PR, whY-us? Sales and Marketing Management Solutions Ltd, PHA Group, Headland Consultancy, Our Own Brand, Red Setter, UnitedUs, Altavia UK, BBC, BBC Studios, Auto Trader, Lodestone, Talon.
Digital/Data/Tech
Ipsos, Contingent and Future Technologies Limited, Reddico Digital, Seenit Digital, Instinctive BI, ASquared, Rufus Leonard, MVF, Coeo Ltd, The Modular Analytics Company, Dataswift, Capco, Trend Bible, Incremental Group, Vpod Solutions, IMServ Europe Limited, Discovery Research Ltd, Tech 21, Ten10 Solutions Ltd, Excel TM Group, Absolute Labs, DJS Research, H2, SAP UK Ltd, Open GI Ltd, Polygesit Ltd.
Education
Newcastle University, Lottie's Nurseries, BeBright Pre-School, Busy Bees Kindergarten, Hertfordshire Students' Union, University Academy 92, Libra School, North West Regional College, St Michael's CE Primary, Steventon, The Harmony Trust, Inspiration Trust, Alderbrook School.
Environment 
The Future Forest Company, UNDO Carbon, Cynnal Cymru.
Financial
HSBC UK, First Direct, Marks and Spencer Bank, TSB, Post Office Ltd, Coventry Building Society, Zip, Financial Services Compensation Scheme (FSCS), West Bromwich Building Society (the West Brom), Danske Bank, Mortgage Advice Bureau – Severn Mortgage and Protect, Evolve Financial Solutions, Swinford Consultants, Vaultex UK, HG Capital, Lovewell Blake Chartered Accountants and Financial Planners, Saga, Paragon Bank, Allianz Global Corporate and Specialty, Funding Circle.
Government/Local Authority/Public sector 
British Army, the Department for Health and Social Care, the Department for Education, Belfast City Council, Fife Council, West Dunbartonshire Council, East Renfrewshire Council, Inverclyde Council, Somerset Council, the office of Kellie Armstrong MLA, the office of Paula Bradshaw MLA, the office of Stewart Dickson MLA, the office of Andrew Muir MLA, the office of John Blair MLA, Alliance Party of Northern Ireland, East Belfast Alliance Assembly Constituency Office, Midlothian Council, Glasgow City Council, North Ayrshire Council, Torfaen County Borough Council, Crown Prosecution Service, Aberdeen City Council, South Lanarkshire Council, Manchester City Council, Solihull Metropolitan Borough Council, Improvement Service, Scottish Borders Council, Office of Angela Crawley MP, Office of Monica Lennon MSP, Buckinghamshire Council, Arts Council England, Skills Development Scotland, Renfrewshire Council, Staffordshire Police.
Health and social care 
Barts Health NHS Trust, University Hospitals Coventry & Warwickshire NHS Trust, Birmingham Women and Children's NHS Trust, Dudley Group NHS Foundation Trust, Liverpool Women's NHS Foundation Trust, Shrewsbury and Telford Hospital NHS Trust, The Royal Wolverhampton NHS Trust, Walsall Healthcare NHS Trust, Northern Care Alliance NHS Foundation Trust, Cross Country Medical, Healthcare First Partnership, Community Integrated Care, Home Instead Andover & East Wiltshire, Entia, GSK, the Ova Co, Norfolk Community Health and Care Trust, Coventry and Warwickshire Partnership NHS Trust, Society of Occupational Medicine, Sun Healthcare Ltd, The Rotherham NHS Foundation Trust, Watkins and Tasker Vets, Aspirations Support Bristol Ltd, IBC Healthcare, Nottinghamshire Healthcare Trust, Nursing and Midwifery Council, University Hospitals of Leicester NHS Trust, Doncaster and Bassetlaw NHS Teaching Hospitals, Abicare.
Professional services/Business support
Mishcon de Reya LLP, Horizon HR, Blaser Mills, HR180, Brabners LLP, Kingsley Napley, Nori HR and Employment Law, Mills and Reeve, Gotelee Solicitors LLP, Howard Kennedy LLP, Macmillan Davies, Argyll, Thomas Westcott, AMS, MBL (Seminars) Ltd, Scout, Bond Global, Siendo Wellbeing, Burges Salmon, Stowe Family Law, Pareto Facilities Management, Weightmans LLP, Moore Insight, TC Facilities Management, GoodShape Ltd, Service Care Solutions Ltd, The Support Group (UK) Limited, The Adecco Group, Zellis Group, LM Services (NI) Ltd, Reed Specialist Recruitment Ltd, Pipster Solutions, Unum, Howes Percival LLP, BDB Pitmans.
Retail/Leisure/Sport/Entertainment
Co-op, Chester Zoo, Cosy Aromas, ASOS, allplants, East of England Co-op, Distrkt, W Series Ltd, Coorie by the Coast, Once Upon a Tuesday, Inc and Co, FatFace, Holland and Barrett, Collinson, TJX Europe, River Island, Brio Leisure, MCRActive, Seasalt Cornwall, Travel Counsellors.
Transport/Engineering/Infrastructure/Property/Manufacturing 
Southeastern Railway, SMS Plc, ALD Automotive, NPS Development Ltd, J Murphy & Sons Limited, Shoreham Port Authority, SPE Global Ltd, East Midlands Railway (EMR), Realm Ltd, Programme Services Partners Ltd, Bentley Project Management, SMR Automotive Mirrors UK Ltd, Worcester Bosch, Volkswagen Group.
Visit our Miscarriage and the Workplace information hub here.
Find out more about our training and consultancy services here.
Follow us on social media for #PregnancyLossPledge updates – Twitter, Facebook, Instagram, LinkedIn