Babyloss Awareness Week
Babyloss Awareness Week is held annually from 9 to 15 October. It's a special opportunity to mark the brief lives of babies lost in pregnancy or at or soon after birth.
During the week, we work with a number of charities to raise public awareness of the key issues affecting those who have lost a baby:  the emotional impact of loss, the quality of care, pregnancy after loss and so on.  We also share information about remembrance and awareness events around the UK.
In addition, each year we work to raise awareness of issues that are especially important to people affected by early and late miscarriage, ectopic pregnancy and molar pregnancy.
Awareness Week 2017
Support
We are focusing this year on what people can do to support someone who experiences pregnancy loss.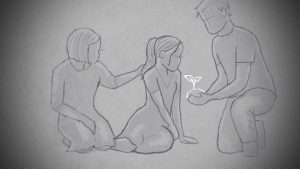 We'll be launching a brand new animation, created for us by Alice Rose Parker.  It follows the theme of our Simply Say campaign, providing another chance to let family and friends know what can help – and what doesn't – after the loss of a baby in pregnancy.
We'll also be sharing a new song, written especially for the week by singer-songwriter duo Itty Bitty Beats.
Once they are launched, we'd be delighted if you would share these new resources, especially on social media, and help spread the message.
Raising awareness
We'll be supporting the joint charities' 'Break the Silence' campaign, sharing stories and short video blogs on the main Babyloss website.
Four of our male supporters will be featured on the Victoria Derbyshire Show on BBC 2 during the week, discussing their experiences of miscarriage.
We are  encouraging people to wear our shared Babyloss pin badge.  And if  you use Twitter or Facebook, you may also like to add a 'Twibbon', a virtual version of the awareness badge, to your profile picture.  You could also post a message explaining what it represents, adding the hashtag #babyloss.
Events
There is a range of large and small events taking place during Babyloss Awareness Week and in the days leading up to it.  Our charity partners, together with members of the All Party Parliamentary Group on Babyloss, have coordinated a number of events at Westminster and in the devolved parliaments, as you can see here.  There are smaller events too across the UK, some of which we have listed here.
In addition, thanks to many charity staff and supporters, a growing number of public buildings and landmarks will be lit up in pink and blue to mark Babyloss Awareness Week.  We list some of those here.
Good care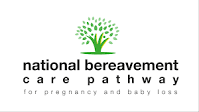 We are working with nearly 40 charities and other organisations to seek government and health service backing for better bereavement care across the UK.  This will include production of the first draft of a national bereavement care pathway for people affected by pregnancy and baby loss.  It is also an issue discussed at length during the backbench debate held on 10 October 2017.
Remembrance
Every year, on October 15 (International Pregnancy and Infant Loss Awareness Day), people from around the world are invited to light a candle or candles, at 7 p.m. local time, creating a Wave of Light in memory of babies who have died too soon.
Last year, we created a video of images shared online, with Itty Bitty Beats' beautiful song 'The Last Lullaby' as its soundtrack.  We hope that on 15 October, many of you will share your photos on our Facebook page this year too, so we can create another special video of shared memories.