Baby Loss Awareness Week 2023
Baby Loss Awareness Week is held annually from 9 to 15 October. It's a special opportunity to mark the lives of babies lost in pregnancy or at or soon after birth.
During this week, which is now in its 21st year, we work alongside more than 100 other charities and groups to raise awareness of key issues that affect people who have lost a baby.
Like any other week we will be here to provide support and information to anyone affected by pregnancy loss, however recent or long ago. If you would like to talk with one of our helpline support workers – by phone, email or live chat – you can find more details here.
While this week can be a special time of remembrance, the increase in social media activity around pregnancy and baby loss can understandably feel overwhelming for some. Do take some time out from social media during the week, if and whenever you need to.
Raising awareness
The week aims to share how the pregnancy and baby loss community is there for people every step of the way, during and after loss. We want everyone to know that you don't have to navigate pregnancy loss alone.
Throughout the week we'll be sharing stories and information on our social media (find links to our different channels towards the end of this page).
Pin badges
One way to mark the week is to wear a Baby Loss Awareness Week enamel pin badge. And we'd really like to see you wearing them – do tag us in any photos on social media. Pins are available year-round from our online shop for £3.50 including postage and packaging (UK only). Please order by 4 October if you'd like to receive your pin in time for Baby Loss Awareness Week.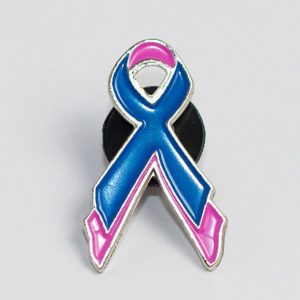 Memory Walk
This year we're inviting people to take part in their own 4-mile Memory Walk at 4pm on Sunday 15 October. Wherever the location, we hope this walk will bring people together in spirit, remembering those tiny lives lost too soon while also helping us to help others in the future.
Find out more and sign up with your own fundraising page, here.
Turning the UK pink and blue
Every year iconic landmarks, municipal buildings, hospitals, bridges and stadiums across the UK take part in turning pink and blue for baby loss awareness. Find out more, here.
You might like to think about having a pink and blue themed display in your own front window, or with fairy lights outside.
Global Wave of Light, 15 October
At the end of the week, 15 October, you may like to take part in the annual global Wave of Light. People around the world light a candle or candles at 7pm local time in memory of the baby or babies they have lost. Photos of these candles on social media create a wave of light that spreads across the globe.
You can join this virtual wave of light by adding your photo on the night, with the hashtag #WaveofLight. You might also like to purchase one of our special candles – please order by 4 October if you'd like to receive your candle in time for the Wave of Light.
If you follow us on social media please also tag the Miscarriage Association in your candle photos, we'd love to see them – Facebook, Twitter, Instagram and LinkedIn.
Other online and in-person events
Find other remembrance events happening during Baby Loss Awareness Week, here.
Following the week's activity
You can find us on Facebook, Twitter, Instagram and LinkedIn.
You can also find more information about Baby Loss Awareness Week, here.