Baby Loss Awareness Week 2019
Baby Loss Awareness Week is held annually from 9 to 15 October. It's a special opportunity to mark the lives of babies lost in pregnancy or at or soon after birth.
During this week, we work alongside around 60 other charities and groups to raise awareness of key issues that affect people who have lost a baby, highlighting the need for tangible improvements in bereavement care, research and prevention.
This page contains an overview of Baby Loss Awareness Week 2019. For a reflection on this year's event and its impact, please see our news story.
Improving access to mental health support
This year our campaign focus for Baby Loss Awareness Week was on the lack of timely access to psychological therapies for people who need extra mental health support following pregnancy or baby loss. Over the next 12 months our organisations will be calling on governments at Westminster and the devolved nations to ensure that anyone who needs psychological therapy after pregnancy or baby loss, they can access it without unduly long waiting times, and on the NHS.
Here at the Miscarriage Association, we have recently launched a new set of resources to help women and their partners care for their mental health after pregnancy loss. These can be access on via the Your Mental Health section of our website.
Pin badges and ribbons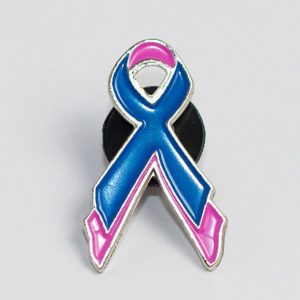 One way to mark the week is to wear a Baby Loss Awareness Week enamel pin badge. These are available year-round (while stocks last) on our online shop for £2.50 including postage and packaging (UK orders only). We can also take your order over the phone on 01924200799.
You can also add a virtual ribbon ('Twibbon') to your Twitter and Facebook profile pictures.
Some people and organisations organised 'ribbon remembrance' events, using real pink and blue ribbons or Awareness Week bunding to create displays for libraries, workplaces or hospitals.
Lighting up the UK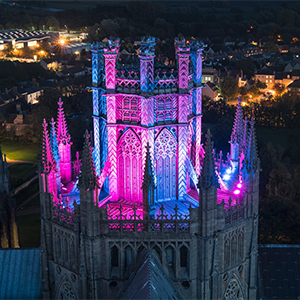 The last three years have seen a growing number of public buildings and landmarks lit up in pink and blue in support of Baby Loss Awareness Week. In 2019, this included the Wakefield Town Hall, the BT Tower, and Falkirk's Kelpies.
Photo: Ely Cathedral lit up in pink and blue for Baby Loss Awareness Week (Credit: James Billings Photography)
Wave of Light
At the end of the week each year, 15 October, you may like to take part in the International Wave of Light, where people around the world light a candle or candles at 7 p.m. in memory of the baby or babies they have lost. Photos of these candles on social media create a wave of light that spreads across the globe. You can join this virtual wave of light by adding your photo at 7 p.m. with the tag #WaveofLight.
You can see a gallery of candles that were shared with us in 2019 on our Facebook page.
Keeping you updated
Every year, we share updates before and during the week here on our website and on social media. You can find us on Facebook, Twitter and Instagram.
You can also find more information about Baby Loss Awareness Week, including a list of the different charities involved, here.