Babyloss Awareness Week
Babyloss Awareness Week is held annually from 9 to 15 October. It's a special opportunity to mark the brief lives of babies lost in pregnancy or at or soon after birth.
During the week, we work with a number of charities to raise public awareness of the key issues affecting those who have lost a baby:  the emotional impact of loss, the quality of care, pregnancy after loss and so on.
In addition, each year we work to raise awareness of issues that are especially important to people affected by early and late miscarriage, ectopic pregnancy and molar pregnancy.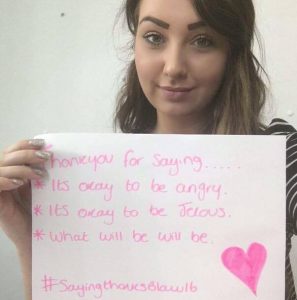 Awareness Week 2015
In 2015, we focused on breaking the silence about pregnancy loss, asking people who had experienced a loss to share the helpful things that their friends and family had said.  You can see some of the results here.
We also noticed that for many people, what was said wasn't so important as the fact that someone had listened, and this became the focus of our 2016 campaign.
Awareness Week 2016
In 2016, we encouraged our supporters to spread the message that while pregnancy loss can be a very upsetting experience, it doesn't have to be a lonely one.
With the hashtag #heretolisten, we launched a new animation to let people know how much listening can help.  We also developed a set of shareable images for sharing on social media:
We share more about Babyloss Awareness Week 2016 here.
Wave of Light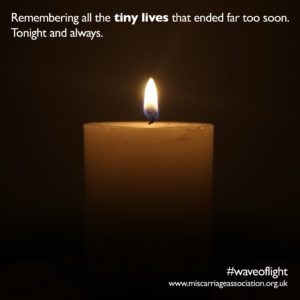 Every year, on October 15 (International Pregnancy and Infant Loss Awareness Day), people from around the world are invited to light a candle or candles, at 7 p.m. local time, creating a Wave of Light in memory of babies who have died too soon.
In 2016, we created a video of images shared online. Our thanks to everyone who allowed us to share their photos in this way and thanks too to Itty Bitty Beats for giving us permission to sue their beautiful song, 'The Last Lullaby'.
We look forward to sharing plans for Babyloss Awareness Week 2017.