Cycling
Where will your bike take you in 2017?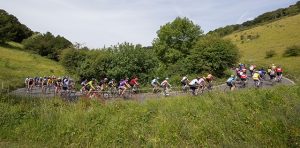 Whether you're riding in a local cycling challenge or organising your own route from John O'Groats to Lands End, cycling events can be a great way to get fit, achieve a personal goal and raise the essential funds that the Miscarriage Association needs to support those who've lost a baby during pregnancy.
Every year, hundreds of cycling events take place in the UK. The Miscarriage Association has charity places for some of these, such as Ride London-Surrey 2017. However, there are many other UK cycling events where you can apply for your own place and set your own fundraising target.
By undertaking a cycle challenge for the M.A., you're not only helping us raise essential funds, you're also helping to break the silence surrounding miscarriage. You may be surprised at how many friends, family members and even strangers will be supporting from the sidelines.
Cycling for the Miscarriage Association
The Miscarriage Association is a small charity with big ambitions and every fundraiser matters to us. We'll support you throughout your training, fundraising and event day, with:
a Miscarriage Association t-shirt
advice on setting up your online fundraising page on Virgin Money Giving or JustGiving
printed sponsorship forms
advice on fundraising dos & don'ts
a genuine interest and delight in your support!
Upcoming Charity Cycle Events
Cycling events where the Miscarriage Association has guaranteed charity places will be listed below. If none of these are right for you, remember that you can always fundraise while taking part in another cycling event or even organise your own.
RideLondon-Surrey 100
30 July 2017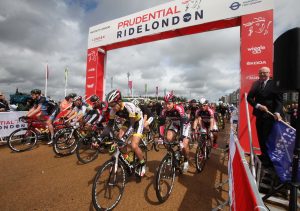 The Prudential RideLondon-Surrey 100 will take place on Sunday 30 July 2017.
Closing date for applications: Monday 8 May.
Now in its fifth year of operation, this fantastic event offers the opportunity to take on a cycling challenge like no other through the closed streets of London and the Surrey hills.
Even if you're not one of the world's top cyclists taking part in the  RideLondon Classic, you could be one of the 20,000 cyclists who'll be riding a modified version of the London 2012 Olympic Road Race – 100 miles of city streets, country roads and the famous Box Hill in Surrey.
If you'd like to take part, or know someone else who might, why not join the Miscarriage Association's team with one of our charity places?  It will cost you, it's true – we'll ask you to pay a (non-refundable) £50 registration fee and to commit to raise a further £400 (or more) for the Miscarriage Association, to support our work.  But if you're willing to do that and if we have a place available, you're in!
Just contact us, complete our pledge form and we'll start the process to get you registered.  But hurry – the closing date for applications for one of our charity places is Monday 8 May, and they may be snapped up well before that!
For more information about the race, visit the official website here.