Running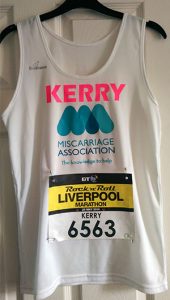 It's time to get your running shoes on!
Whether you're running a 5km race or taking on a marathon, running events can be a fantastic way to improve your fitness and help us raise awareness and funds for the Miscarriage Association.
You'll find running events that you could take part in almost every weekend, both here in the UK and overseas.
The Miscarriage Association has places in just one of these – the iconic London Marathon – but there are many more where you can apply for your own place and set your own fundraising targets.
Running for the Miscarriage Association
The Miscarriage Association is a small charity with big ambitions and every fundraiser matters to us.
We'll support you throughout your training, fundraising and event day, with:
a Miscarriage Association t-shirt or running vest
advice on setting up your online fundraising page on Virgin Money Giving or JustGiving
printed sponsorship forms
advice on fundraising dos & don'ts
genuine interest and delight in your support!
Upcoming charity running events
Running events where the Miscarriage Association has guaranteed charity places will be listed below. If none of these are right for you, remember that you can always fundraise while taking part in another running event or organise your own event altogether.
London Marathon 2018: We tell you more about how to apply to join our team here.