London Marathon
Thank you for your interest in running the 2020 Virgin London Marathon for the Miscarriage Association, now to be held on Sunday 3rd October 2021.
The London Marathon is our biggest fundraising event in the year, bringing in over a quarter of our annual funding needs. It makes a huge difference in helping us provide support and information for anyone affected by the loss of a baby in pregnancy, and it also helps to raise awareness of pregnancy loss and how we can help.
Unfortunately all of our Golden Bond places have now been filled and our waiting list is closed to new applicants, but the information below will most likely still be relevant for 2021.  Virgin London Marathon generally release information about the next years' ballot at around lunchtime on race day.
Getting a place
There are two main ways of getting a place in the London Marathon – and generally, if you are able to do both, you'll maximise your chances of taking part in this brilliant event:
Via the ballot – now closed for 2021
The public ballot for 2021 places closed on May 3 2000 and was massively oversubscribed, meaning that entrants have around a 1 in 20 chance of a place. If you applied this way, you will have found out if you were successful or not in October 2019.
If you are fortunate enough to get a place through the ballot, or you have a Good for Age, celebrity or any other place, we'd be delighted to welcome you to join Team M.A..  Please just get in touch with us at fundraising@miscarriageassociation.org.uk and we'll introduce you to your fellow runners.
Applying for one of our charity places – now closed for 2021
N.B. We made our first group of offers on 12 June 2019, and hope to have more to offer to some of those on our waiting list.  However, things can and do change so if you still want to apply, please visit CRunCH, (Charity Runners Clearing House, who manage our places), read through their information about running for charity and click on the Miscarriage Association link in the charity tab.
You'll see that applying for one of our places means committing to raise a minimum of £1500 , so you may want to take some time to think if this is do-able and how you might go about it (we know it's not always easy). If you're OK with that, please do complete the application form and note that you found the information on this website.
Take a look at some stories from 2019
Nicky (above) enjoyed every moment of her Marathon day.
Kate (right) shares what running the 2019 London Marathon meant for her.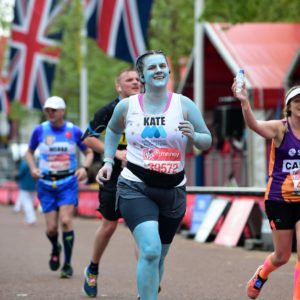 Peter describes his wife Jen's 2019 London Marathon journey.
For Dan, the run represented moving on, remembering babies lost but also being thankful.