Baby Loss Awareness Week 2021
Baby Loss Awareness Week is held annually from 9 to 15 October. It's a special opportunity to mark the lives of babies lost in pregnancy or at or soon after birth.
During this week, we work alongside more than 100 other charities and groups to raise awareness of key issues that affect people who have lost a baby.
Like any other week we will be here to provide support and information to anyone affected by pregnancy loss, however recent or long ago. If you would like to talk with one of our helpline support workers – by phone, email or live chat – you can find more details here.
While this week can be a special time of remembrance, the increase in social media activity around pregnancy and baby loss can understandably feel overwhelming for some. Do take some time out from social media if and whenever you need to.
Theme of the week – wellbeing
This year Baby Loss Awareness Week will focus on a general theme of 'wellbeing'. We'll be exploring what this means to people touched by pregnancy loss.
Each day during #BLAW2021 we plan to explore a different topic within the overall theme. The daily topics will be:
Sat 9 October – An introduction to the week and the theme of wellbeing
Sun 10 October – Looking after yourself
Mon 11 October – Looking after those who provide care and support and those on the frontline
Tue 12 October – Looking after siblings (children and adults)
Wed 13 October – Looking after partners
Thu 14 October – Looking after each other as a community (including the workplace)
Fri 15 October – A focus on remembrance and the Wave of Light
Throughout the week we'll be inviting people to share their stories and what helped (or didn't help) them cope.
We'll also be sharing our information and resources and featuring other groups and organisations that can help.
Pin badges
One way to mark the week is to wear a Baby Loss Awareness Week enamel pin badge. You can have a look at a gallery of photos shared with us of pins being worn in 2020 in our Instagram highlight. Pins are available year-round from our online shop for £3.50 including postage and packaging (UK orders only).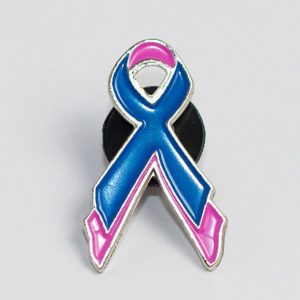 Turning the UK pink and blue
Last October more than 160 buildings and landmarks lit up pink and blue during Baby Loss Awareness Week, including the Blackpool Tower, the Kelpies, Belfast City Hall, the BT Tower, Marble Arch, the Millennium Bridge at Gateshead, Cardiff City Hall and many others. See if you can help us light up even more this year, here.
You might also like to think about having some kind of pink and blue display in a front window, or with fairy lights outside.
Wave of Light, 15 October
At the end of the week, 15 October, you may like to take part in the annual International Wave of Light. This is when people around the world light a candle or candles at 7pm local time in memory of the baby or babies they have lost. Photos of these candles on social media create a wave of light that spreads across the globe. You can join this virtual wave of light by adding your photo on the night, with the tag #WaveofLight.
You can see a gallery of candles that were shared with us in 2020 in our Instagram highlights here and here.
We're happy to be able to host our own special online Wave of Light events on Zoom for the second time running this year. The events, which will also take place at 7pm on 15 October, will allow people affected by pregnancy loss or the loss of a baby at or soon after birth to come together online to light candles of remembrance and hear the name of their baby, or other special details, read out.
More information about these events, including details of how you can register for them, here.
It meant so very much to us both to be able to take part in the Wave of Light service, it helped my husband to express his feelings and well, to just have a good cry. It was the first time he has cried since the day we found out we had lost the baby so it was well needed. The service itself was perfect, so moving and special to us all… such a wonderful tribute to all our little ones.
Keeping you updated
Every year, we share updates before and during the week here on our website and on social media. You can find us on Facebook, Twitter, Instagram and LinkedIn.
You can also find more information about Baby Loss Awareness Week, including a list of the different charities involved, here.