Take on the 2.6 Challenge!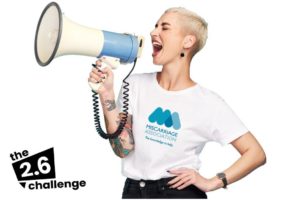 Join Team 2.6 today and help our vital miscarriage support services
Set up by Britain's mass participation event organisers, the new 2.6 Challenge aims to bring the nation together on Sunday 26 April to raise millions for UK charities whose funding has been affected by the Coronavirus pandemic.
People of all ages and abilities (you definitely don't need to be a marathon runner!) are encouraged to take part in this exciting virtual event, choosing a cause close to their hearts to support.
We'd love for you to join the Miscarriage Association team and help us to support people affected by pregnancy loss.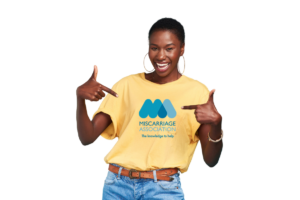 It's easy to get involved. All you need to do is think of an activity based around the numbers 26 or 2.6. This could be something as simple as pledging to run 2.6 miles as your daily exercise to doing 26 minutes of yoga, juggling for 26 (or just 2.6!) minutes non-stop or attempting 26 star jumps. You can make it as serious, simple or silly as you like – of course while all the time sticking to Government guidelines. See below for some more ideas.
Once you've chosen your 2.6 Challenge, you can either make a donation (of £2.60, £26 or whatever you can afford), by clicking here. Or you can fire up your efforts by setting up a fundraising page and getting your friends and family to sponsor you!
You can quickly and simply set up your page on either JustGiving or Virgin Money Giving and your sponsorship will come straight to us. Remember, the more times you share your page, the more donations you'll receive.
Thank you so much for supporting people through pregnancy loss.
Sarah, one of our Trustees, on why she's taking part in the 2.6 Challenge:  
Watch our other 2.6 Challenge videos here.
Twenty six 2.6 Challenge ideas
Do 26 football keepie uppies or headers
Shoot 26 basketball or netball hoops
Do 26 press ups or crunchies
Run for 26 minutes on the spot – indoors or outdoors
Bike ride for 2.6 or 26 miles
Skip for 26 minutes
Get 26 friends together for an online workout
Plank for 2.6 or 26 minutes
Do 26 star jumps
Walk the dog for 2.6 miles
Walk 2.6km round your house in fancy dress
Do 26 minutes of yoga or pilates
Dance (like no one's watching!) for 26 minutes
Complete 26 laps of your garden
Throw and catch a ball 26 times
Jump 26 times on a trampoline
Pull on your skates or hop on a scooter and do 26 lengths of your street – carefully!
Hop for 26 minutes – switch legs every 2.6 minutes!
Run or Walk up and downstairs 26 times
Juggle for 26 minutes – or just 2.6 minutes!
Do some weeding for 26 minutes
Do 26 star jumps
Don 26 items of clothing – like Joey from Friends
Get the neighbours together – at a safe distance – to do a 26 minute workout
Keep a tennis rally going for 26 hits
Balance a ball on your head for 2.6 minutes
You can find out more about the 2.6 Challenge here.