Help raise funds for the Miscarriage Association.
If you've had a miscarriage, or ectopic or molar pregnancy, you'll know how hard it can be to get people to talk about pregnancy loss.
So you can probably imagine that it can be difficult for the Miscarriage Association (M.A.) to attract major grants and donations. This is why we are asking you to help us to provide support and information for others who lose a baby in pregnancy.
We need to raise a minimum of £500,000 per year just to maintain services at their current levels – and we'd like to do a whole lot more! Your support can make a real difference, helping to secure and develop our services and helping us to raise awareness of miscarriage.
The poster below shows how your your fundraising can help: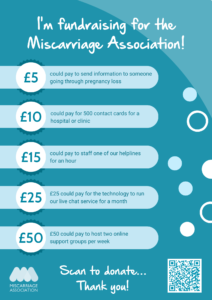 How to fundraise for the M.A.
You can fundraise for us by running or cycling, taking part in a challenge event, taking part in one of our regular virtual events or organising your own, or selling online. If you're looking for inspiration, have a read of our previous fundraisers' stories.
"I've had a fabulous time running all over the country but more importantly, every time I've run I've had the opportunity to break taboos and raise awareness for the M.A.. And as long as I am able to keep running, I will keep supporting and talking about the work that the M.A. do."
– Andie Ford
Please don't think that your support isn't necessary. Compared with most national charities, The Miscarriage Association is a very small organisation, but it manages to make a major impact on a very limited budget. However you choose to help us will make a difference to someone else who is going through the misery of pregnancy loss.
If you would prefer to make a donation directly to the M.A., please see our Ways to Donate page.
Thank you for your support,
Emma and Karn – Fundraising Team