Trustees
Our Board of Trustees is responsible for planning, guiding and reviewing the work of the Miscarriage Association – the services we provide, the way we are run and the way we raise and spend our funds. We aim to have a range of skills and experience on the Board.
We have ambitious plans to increase the charity's reach, so that more women and their partners get the care, information and support they need during and after pregnancy loss. We are also committed to supporting good and sensitive care as well as high quality research. All this requires a Board with a range of skills and experience, so from time to time we actively recruit additional Trustees to strengthen and add to the Board.
We will post here when we are recruiting.
The Miscarriage Association Board of Trustees
(L-R) Ola Obaro, Amy Braier (Chair), Jan Birrell, Natasha Necati, Beena Lad, Barbara Hepworth-Jones  (Vice Chair), Sarah Bailey, Penny Kerry (now retired). Not pictured, Melissa Ingram, Teresa Owen (Hon Treasurer).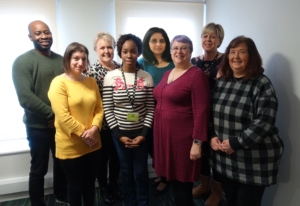 Save