Step into the New Year – and support the M.A.
26th December 2022
Our New Year challenge kicks off on January 1st – and we're hoping you'll join us in Stepping Up for the M.A.
Our annual event challenges people to clock up 250,000 steps in the first month of the year – that's the same as the number of pregnancies that are very sadly set to end in miscarriage during 2023.
Can you help us raise awareness and funds to help us support people through this often very deeply upsetting, frightening, and isolating experience?
For many, however early a pregnancy is lost, it represents the end of hopes, dreams and a planned future together as a family. The M.A. exists to try to ensure that no one has to go through this alone.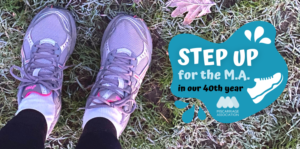 To take part in the Step Up challenge, all you have to do is commit to taking 250,000 steps throughout the month of January and ask your friends, family or colleagues to sponsor you. It's also a great way to stick to those New Year resolutions to get fitter and healthier.  
New for this year, we are offering active participants a free bespoke beanie hat to wear to help boost fundraising and awareness during your challenge. You'll receive an email from us explaining how to get yours once your page has received more than £10 in donations (the minimum amount to cover our costs).
If you'd like to join in, you can set up your fundraising page here: (click on the orange "Start Fundraising" button).
And you can read more about the challenge here.