Pregnancy loss and the workplace
26th May 2021
It's been nearly two months since the government of New Zealand announced the provision of three days' paid parental bereavement leave after miscarriage and stillbirth.
This provision is significant.  It recognises that for many women and partners, the experience of miscarriage or stillbirth is a bereavement.  Whether that loss happens at six weeks or 36 weeks of pregnancy or later, they are offered the same level of paid leave as after the loss of a parent, spouse, child or other close relative.  And that practical support can really help.
Has it changed things in the UK?
It has certainly created a great deal of discussion and some very positive announcements from employers in the UK.  This includes companies like Channel 4, digital bank Monzo and some local authorities who recognise the gap between what is currently available (see below) and what many women and their partners need.
What is the Miscarriage Association doing?
While there are some moves for statutory changes in the UK, this is likely to be a very lengthy process and the Miscarriage Association will continue to contribute to the discussion wherever possible.
 We have created a specialist Miscarriage and the Workplace resource which encourages organisations to create a supportive work environment and to implement pregnancy loss policies.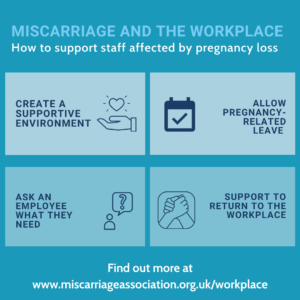 The resource includes sections for employers, managers, HR, employees and colleagues, guidance for creating a miscarriage policy, case studies and videos highlighting best practice and lots more information.
We are also working with HR service providers and employment advisors to try to ensure the impact of pregnancy loss is considered in their good practice guidance for employers.
And we are consulting directly with a range of organisations and companies, supporting them to introduce pregnancy loss policies and better care and support for those affected.
Do get in touch if you'd like our help.
What is currently available in the UK after pregnancy and baby loss?
The UK offers two weeks paid parental bereavement leave in the case of losses from 24 weeks gestation – that is, stillbirth or neonatal death.  This may be taken in addition to maternity and paternity leave, which is also applicable at this stage.
However, there is no such statutory provision after earlier loss.  Unless their employer offers more, women have to rely on statutory sickness pay, if they qualify, or they may take annual leave, unpaid leave or perhaps no leave at all.
They may qualify for pregnancy-related leave if they have a doctor's note to that effect. This doesn't necessarily mean that the leave is paid but it protects that time off work from being included in calculations of leave entitlement.  This prevents it being used to trigger disciplinary procedures or used in matters relating to promotion or selection for redundancy.
We have more information for employees here.
You may also like to read this article from law firm Mishcon de Reya.