A new European guideline on Recurrent Pregnancy Loss
26th January 2018
We are very pleased to highlight the recent publication of the guideline Recurrent Pregnancy Loss, produced by ESHRE, the European Society of Human Reproduction and Embryology.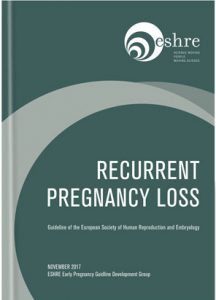 This guideline (1) provides important, up-to-date information about investigations into and treatment for recurrent miscarriage (2).  It reviews all the research evidence and makes recommendations for clinical practice.  It also puts patients' needs centre stage when considering the best way to provide care.
There is an accompanying patient leaflet (3) which provides a helpful summary of the guideline and its recommendations – those investigations and treatments which are recommended and those which are not.
Is it useful?
The guideline is a very welcome resource.  It provides sound, evidence-based information for healthcare providers and for patients too.  But recommendations are different from current guidance followed in the UK and we don't yet know what that will mean for NHS practice.
What's different?
In the UK, recurrent miscarriage means three or more consecutive miscarriages (i.e. one after the other).  It's usually only after that point that a women or couple is offered investigations, though there are exceptions.
The ESHRE guideline:
suggests that doctors consider a diagnosis of recurrent pregnancy loss after two or more miscarriages
suggests that these losses would not necessarily need to be consecutive (i.e. the woman could have had a healthy pregnancy or pregnancies in between) and
recommends that testing for Antiphospholipid Antibody Syndrome (APS), is performed after two losses.
However, the guideline recognises that different countries have different health systems, so it leaves it to the individual doctor, medical team, hospital or health service to decide:
how they define recurrent miscarriage and
at what point they offer investigations and treatment
What does it mean for me?
We don't know if this guideline will change referral practice in the UK or not.  For now, the decision on when to refer for investigations will remain with the referring doctor and/or their Trust or practice.
However, it might make a difference to the particular tests or treatments that you are offered.
When will we know more?
We imagine that the ESHRE recommendations will be widely discussed and may impact on the guidelines published by the Royal College of Obstetricians and Gynaecologists (RCOG).  We hope we will have the opportunity to share our views during that process, as well as with key decision-makers and professional organisations.
Notes
(1)  The ESHRE guideline on Recurrent Pregnancy Loss was published online in November 2017. You can see the full text of the guideline by clicking the image on the right hand side of the page.
(2)  Although the guideline refers to pregnancy loss, this definition doesn't include ectopic or molar pregnancy, so we use the word miscarriage.
(3)  You can see (and download) the patient leaflet by clicking the image on the left hand side of the page.
(4)  The Miscarriage Association's Director, Ruth Bender Atik, was a member of the guideline development group, representing patient perspectives, and was also a co-author of the patient leaflet.