Men and miscarriage – and others too
24th June 2021
Last Sunday was Father's Day – a time that's full of fun for many but can be especially difficult for those who are grieving lost fatherhood after miscarriage, ectopic or molar pregnancy.  And while the sensitivities of Mother's Day are increasingly recognised, it is rare for much mention to be made at all of men's feelings and experiences at this time.
This year, though, there was a difference.  Thanks to the creative genius of MRM UK and the enthusiasm of TalkRADIO, this popular broadcaster dedicated an hour on Sunday to talk with men  who shared their thoughts, experiences and feelings on pregnancy loss.
They talked about…
… how it felt when they were given the news:
They sort of told us in quite a clinical way that there was no baby there. I just remember feeling like I'd been hit by a shovel. And because, despite the fact that you've never at that point seen this, what will become a human being at that stage, I think you've already started to plan your hopes and dreams.
… having to tell others the news:
They are some of the hardest conversations.  Telling people that you previously told the good news to and telling them that things haven't panned out in the way that you hoped and prayed for, is really difficult.
… being there for their partner:
Most men like to be problem-solvers … to take action.  But there's not very much you can do. You just have to try and support … And you need to grieve and go through your own process at the same time.
… how having a child after loss doesn't mean those losses don't stay with you:
Losing 4 babies in the space of 12 months, you don't just get over that because you are one of the lucky people who actually end up having a healthy, bouncy child as we do. He makes us incredibly happy every single day but there will always be reminders there of what we went through.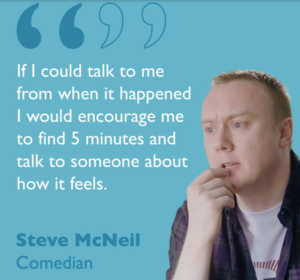 And they talked about what helped them and might help others:
What we wanted… was just people who would listen and then just be there, you know, for whatever we needed. …and our family and friends absolutely were, they were phenomenal.

We're both determined to spread the message that it's ok not to be ok.
Our sincere thanks to Ola Obaro, Garrett Millerick, Matthew Burton, Chris Whitfield, Ross Jeavons, Nigel Martyn, Keyan Milanian and Steve McNeil and all those who contributed to the programme.  You can listen to the conversation here: https://talkradio.co.uk/radio/listen-again/1624201200  and you can find more about the needs and feelings of partners here.
From Father's Day to Woman's Hour
On Tuesday 22 June, BBC Radio 4's Woman's Hour focused on miscarriage cards, asking their listeners what they thought of the idea and whether they would have wanted one if they'd miscarried or would buy one for someone else. Some listeners loved the idea, others definitely not – a mix of views, just as we'd expect.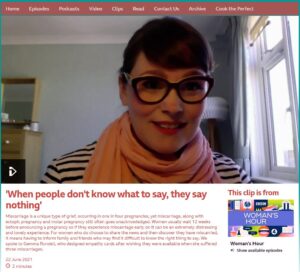 M.A. supporter Gemma Rundell talked about the cards she created after her experiences of loss and spoke movingly about her miscarriages, about pregnancy after loss and about the place their lost babies hold in their family along with their two children.
M.A. Director Ruth explained the background to the card that Card Factory are now selling, how it might help those who want to show support but can't find the words and how both this card and Gemma's help raise awareness of the impact that pregnancy loss can have.
Our thanks to Gemma for taking part in the programme and for donating some of the profits of her cards to the M.A., as indeed Card Factory are doing.
You can listen to or download the feature here  https://www.bbc.co.uk/programmes/m000x6b5, 13 minutes and 57 seconds into the programme.