Covid-19 Inquiry hears the devastating impact of the pandemic on pregnancy loss care
1st March 2023
A group of charities, including the Miscarriage Association, has told the UK Covid-19 Inquiry how all aspects of pregnancy, maternity, neonatal and postnatal care were dramatically disrupted during the pandemic.
Representing the charities, barrister Adam Wagner yesterday (Feb 28th 2023) told the inquiry about the devastating impact of the pandemic on pregnancy loss care.
He highlighted the distress felt by those forced to attend hospital appointments alone, without the support of a loved one – especially when they were often given heart-breaking news about the loss of their baby.
He also told how many of those going through loss had their treatment options severely limited, often being told to simply go home and wait for a miscarriage to happen.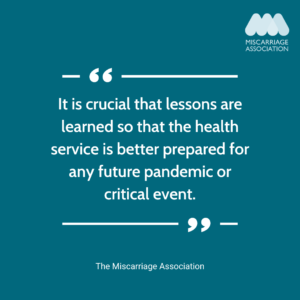 Miscarriage Association National Director Ruth Bender Atik said: "Losing a baby at any gestation can be devastating. Receiving this news alone, without the support of a partner, friend or family member, and also potentially having severely limited options for medical care, only deepened the distress they were already feeling.
"It is crucial that lessons are learned so that the health service is better prepared for any future pandemic or critical event."
As well as the impact on those experiencing pregnancy loss, the Inquiry heard that choice around place of birth was also restricted, with services being suspended during intrapartum care, and postnatal support was significantly reduced. Sick babies in neonatal care were separated from their parents, and some families experienced the devastation of being unable to be with their babies until they were receiving end-of-life care.
The Pregnancy, Baby and Parenting Organisations are core participants in Module 3 of the Inquiry, being chaired by Baroness Heather Carol Hallett. This module looks at consequences for healthcare of the response to the pandemic.  There will be a further preliminary hearing in 2023 and the substantive hearings will take place at some point in 2024.