Baby Loss Awareness Week 2018
23rd October 2018
Thank you to everyone who contributed to this year's Baby Loss Awareness Week (BLAW). Sharing stories, raising funds and getting involved on social media all helped to spread the word and raise awareness, making it a really powerful week.
Here's a summary of some of the week's activities.
New animation
We were very proud to be part of a collaboration of more than 60 baby loss charities working together this BLAW. As part of this alliance, we launched the week with an animation. Our thanks to Postcard Productions who created the animation and to Anthony Weeden for the music. And thanks to everyone sharing it, the animation has been viewed hundreds of thousands of times.
In the media
Shared stories and new resources
 Parliamentary events
A backbench debate on baby loss took place in the House of Commons, organised by the All Party Parliamentary Group on Baby Loss. Available to watch or listen here.
A well-attended drop-in event was held in Westminster for MPs, civil servants and charities, launching Baby Loss Awareness Week and the National Bereavement Care Pathway (NBCP). This was followed by a moving remembrance event in Parliament's Chapel of St Mary Undercroft.
A Scottish parliamentary event at Holyrood helped to launch work to develop the NBCP in Scotland.
A one hour National Assembly for Wales debate was held, secured by Lynne Neagle AM. Available to read here.
A candle event was held in The Pierhead, Cardiff, sponsored by Mark Drakeford AM.
In this short film a number of politicians show their support for Baby Loss Awareness Week:
Remembrance events
A number of local events took place, including a remembrance walk in Belfast organised by M.A. supporter, Erin, pictured here.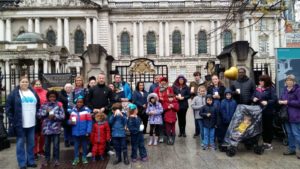 Turning the UK pink and blue
Nearly 200 buildings and landmarks lit up in pink and blue in support of BLAW this year, an amazing response to everyone who got in touch to ask them to get involved – thank you!
Wave of Light
On the final evening of Baby Loss Awareness Week, people around the world lit a candle in memory of babies lost in pregnancy, at or soon after birth and in infancy. Photos of these candles spread a 'Wave of Light' across social media. We are currently putting together an online album of the hundreds of photos shared with us.
Update: photos are now available to view here.