40 Years of Helping People Through
7th November 2022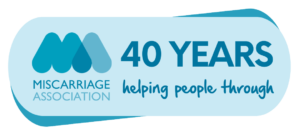 The Miscarriage Association has now been providing support and information to those who have experienced miscarriage, ectopic or molar pregnancy for 40 years. Much has changed since we first started in 1982, but the heart of what we do has remained the same – helping people through and increasing public awareness and understanding.
We're passionate about continuing to provide support, information and resources to those who have been affected by pregnancy loss – and we'd love your help.
For our anniversary year we're asking people to become regular givers. Here's how your donation could help make a difference:
£4 a month could help us answer a call from someone in distress
£14 a month helps us send 700 contact cards to hospitals or clinics to signpost people to our support services
£40 a month pays for us to be able to host seven online peer support sessions each month.
The Miscarriage Association supported me 40 years ago when I lost six babies. They helped me through many dark days – and here I am, mum to my daughter Amy and grandma to a lovely boy.
Making a Difference
Anything you can give can make a huge difference to someone who has experienced pregnancy loss. They may feel comfort from a helpline call, like Christine (above), know where to turn for support and resources after receiving a contact card, or attend a supportive and welcoming online Zoom support group with others who understand.
Sadly, the reality is that we will never be able to prevent all miscarriages. And as long as people are going through this often very difficult and distressing experience, we want to be here for them, as we have been for hundreds of thousands of people over the last four decades.
Changing Over the Years
The M.A. has come a long way since it was launched 40 years ago by a group of people who had themselves experienced pregnancy loss. From being run solely by volunteers, we're now a national charity with a (still small) team of nine, still based in the M.A.'s 'hometown' of Wakefield, West Yorkshire.
We offer a staffed helpline, live chat and online support service, responding to almost 10,000 direct contacts each year, and our comprehensive website receives more than 2 million visits each year. In the last 12 months, we've distributed almost 200,000 free leaflets to hospitals and clinics – getting vital information into the hands of people when they need it most.
This autumn, Peta Harrison, editor of our printed newsletter contributed to our last printed edition. She reflected on what has changed at the M.A. over the years, and what it means to her.
We'd like to thank Peta for all the passion, dedication, and hard work she has contributed to the Miscarriage Association during her thirty years of involvement with us. You can read her article here.
A Thank You From Us to You
We couldn't have reached our 40th anniversary without the dedication, generosity and creativity of our wonderful fundraisers and supporters. We'd like to say a HUGE thank you to everyone who has walked, run, baked, painted, swum, climbed, and more, to raise money for us over the years.
To find out more about our 40th anniversary, and how you can make a difference, click here.