Women told us that they start to guess something is wrong if you go quiet or turn the screen away – and they find that silence very difficult to cope with.
Sonographers told us that it can take time to assess scan images, especially if they suggest or confirm a problem.
Good communication, clarity, honesty and sensitivity can help everyone involved.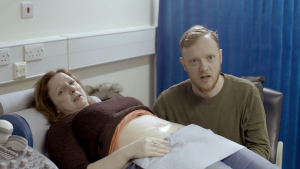 Set the scene by telling the woman that you will be quiet for a few minutes until you can get a clear image.
Talk directly to the woman (and her partner, if present). If you talk primarily to colleagues or trainees, this can cause distress.
If the scan shows a pregnancy smaller than dates, consider how you check the dates with the woman without implying that she's got them wrong.
If there is clearly a discrepancy, explain what this might mean.
If you need to consult a colleague, tell the woman what you are doing/where you are going and why.
Try to minimise the time that women/couples are left alone, waiting and uncertain.
Don't be tempted to give false reassurance in order to make the woman feel better.
If you cannot give definite answers and a further scan or other test is needed, acknowledge how difficult uncertainty and unexpected problems can be.
Provide information about next steps, including:

the timing of a further scan – and why
what might happen in the meantime
whom to contact if she needs help or information before then