The Virtual London Marathon 2021
Would you like to support the Miscarriage Association by taking on the record-breaking 2021 Virtual London Marathon?
We have a limited number of places in this must-do event and we'd love you to join our team.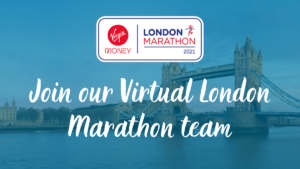 Taking place alongside the Marathon on Sunday 3rd October, the virtual event allows you to be part of this amazing experience by completing the iconic 26.2 mile distance in your own community.
And, you'll get 24 hours to do it, so you can run it your way – all at once or by separating it into stages with snack, drink and loo breaks and support from family and friends along the way! You'll also get access to the special London Marathon runners' app which will plot your miles on the original course, so you can join in with the virtual sightseeing – and celebrate as you 'cross' Tower Bridge or 'run' down The Mall.
It's the first time ever that the London Marathon has staged a virtual event on the same date and the event is set to be one for the history books, with 50,000 people hitting the streets of the capital and a further 50,000 joining remotely. Why not be a part of this running first?
Places are set to be over-subscribed, so we'd encourage you to apply as soon as possible.
Registration is £28 and we'll ask you to set yourself a fundraising target of £200. All those who complete their challenge will receive the same sought-after medal and T-shirt to mark their achievement. We'll also support you with lots of fundraising resources and encouragement and a M.A. vest to train and run in.
Application for our places is now open. We're looking for people who want to support the Miscarriage Association and help us to increase awareness of the issues surrounding pregnancy loss and of the services we offer, so please do fill in the form below if this is something which you feel passionate about.
We'll be in touch with everyone who applies by Monday, 15th February.
To apply for a place with the Miscarriage Association, complete our short application form here:
Create your own user feedback survey