Royal Parks Half Marathon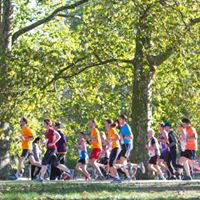 Thank you so much for thinking of running the Royal Parks Half Marathon for the Miscarriage Association!
It's a very special event – a stunning 13.1 mile route that takes in the capital's world-famous landmarks on closed roads, as well as four of London's eight Royal Parks – Hyde Park, The Green Park, St James's Park and Kensington Gardens.
It's a very special date – taking place on a Sunday in October, usually during Babyloss Awareness Week, the time set aside each year to mark the brief lives of babies lost during pregnancy, at birth or in infancy.
It's for a very special purpose – to help us provide support and information for anyone affected by the loss of a baby in pregnancy and, at the same time, to raise awareness of pregnancy loss and the Miscarriage Association as a source of help.
Applying for a ballot place
The public ballot will be open from 28 January 2020, with the results announced by 21 February.  If you're successful and you'd still like to sport the M.A. colours and run for us, we'd be delighted – just get in touch!
Applying for a charity place
If you'd like to be considered for one of our 10 charity places, please get in touch and we'll send you an application form.  Please be aware that we ask our charity place runners to pledge to raise a minimum of £500 for us, plus a (non-refundable) registration fee of £30.
Information and inspiration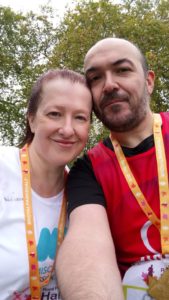 Sarah ran for us in 2018.  She writes:
Having completed the Royal Parks Half I can see why people love it – you'll never look at London's landmarks in the same way afterwards!
This was my first half marathon, and I had to really dig in towards the end. But knowing I was doing it for the Miscarriage Association, and for so many people who have lost a baby in pregnancy – that definitely got me through those last tough miles. And there's no feeling like it when you cross that finishing line. Everyone should try it!
You can find out more about the Royal Parks Half Marathon here.