13.1 Miles for all the Angels in the Sky
Helina talks about running the 20k Manchester Half Marathon, on 28 May 2017.
I felt like my little angel babies were resting on my shoulders, carrying me to the finish line.
Leaving the hospital on 2 February 2016, my heart was completely shattered, I was mentally and physically exhausted and I had lost hope; I had just endured a second surgical procedure and lost my second baby. I had dared to hope and believe that this little baby would make it, that this baby was safe all cuddled up in my womb and that I was going to a Mother but sadly it wasn't meant to be.
I struggled and grieved for months, not just for losing my second baby but for the uncertainty my future now faced. My relationship also broke apart and I became a ghost of my former self. I was empty, alone and in darkness.
Eventually I started to reach out, I googled miscarriages, ectopic pregnancy, grief – everything I could source. I found myself suddenly not alone but with others who understood, who had been through the pain and who were there to help.
I decided to make a change and I entered for the 20km Manchester Half Marathon, raising funds for the Miscarriage Association and the Ectopic Pregnancy Trust.
I felt I wanted to push my body, to raise awareness and to help others in honour of not just my own little ones, but all the baby angels. I titled my fundraising marathon – 13.1 miles for All the Angels in the Sky.
I wanted to tell the world that I am an Angel Mum, that my babies did exist, to help break the miscarriage 'taboo', to encourage open and honest discussion on baby loss and to reach out to others. I wanted to try and give others hope, to let them know that one day they will be okay again and that, although they will never forget their precious little ones, there is still light to be held at the end of the tunnel.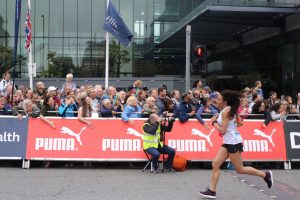 The marathon itself was very tough, emotionally and physically.  I reached the 'wall' at 9 miles and I felt like I wanted to rest or to start walking but for some reason my legs kept on going. I felt like my little angel babies were resting on my shoulders, carrying me to the finish line.
I finished the 20km run in 1 hour and 49 minutes with my beautiful family all around me. I thought about how far I have come from the hospital bed to the marathon finish line and I cried, I cried tears of sadness and happiness.
Yes it was physically and emotionally challenging, but seeing all the good that is has brought to myself and others, seeing the money that will now go towards providing vital support and information to women, couples, health professionals and hospitals and telling the world that there are Angel Mothers and Fathers all around us, makes all the hard work, sweat and tears unquestionably worth it.
Helina Bassey
Update: Helina is now signed up as a member of our 2018 London Marathon team, continuing her support for our work.